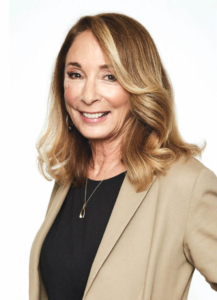 Lynda Obst is one of Hollywood's best known and most successful producers. She has made over 20 movies and TV shows at almost every studio over the course of her long and prestigious career.
Her credits include the Christopher Nolan directed Interstellar, How to Lose a Guy in 10 Days, Contact, Hope Floats, One Fine Day, Sleepless in Seattle, The Siege, The Fisher King, Adventures in Babysitting, and Flashdance amongst others. In television, Lynda was Executive Producer on the hit Nat Geo limited series based on Richard Preston's The Hot Zone, Amazon's Good Girls Revolt, TVLand's Hot In Cleveland, SyFy's Helix, and NBC's Emmy Nominated miniseries The 60's. She is a recipient of the Women in Film Crystal award, as well as the We Empower Women's Pioneer Award, and the 1st Polly Platt Award.
As an author, Lynda wrote the best-selling book Hello He Lied: And Other Truths from the Hollywood Trenches, which debuted at #1 on the LA Times Best Seller list, where it stayed for 10 weeks and turned into an industry classic. It was later adapted into a documentary for AMC. Her second book about the entertainment industry, Sleepless in Hollywood: Tales from the New Abnormal in the Movie Business, another LA Times bestseller, was published by Simon & Schuster in 2013. She has written for NY Times Magazine, Atlantic Monthly, Harpers, Slate, Huffington Post, and The New Yorker.
Originally from the suburbs of New York, Lynda studied philosophy at Pomona College and then attended Columbia for a graduate degree in philosophy, which she left to create the Rolling Stone Mag History of the 60's and then to become an editor for the New York Times Magazine.
Lynda is currently producing both film and television projects out of her office at Sony.